ALMR Members
ALMR Board of Directors
Ray Graczyk, Chairman, NLR, Inc.
Craig Lorch, Ecolights Northwest
Eric Uram, MRT System International
James Harrison, Veolia Environmental Services
Dan Gillespie, Lighting Resources Inc.
Mark Stennes, WM LampTracker Inc.
Scott Beierwaltes, Air Cycle Corporation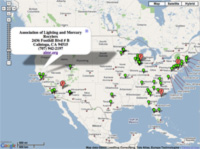 (see below)
Printable list of Members
Click here for PDF
Membership Criteria
General Membership, one vote per member-company. Any company/corporation involved in the recycling of fluorescent/mercury lamps, lighting ballasts (both PCB and non-PCB), retorting or chemical recovery of wastes with mercury, phosphor powder, rare earth elements, or other mercury bearing material, electronic components, including the manufacture of mercury recovery equipment shall be eligible for general membership in the Association.

Associate Membership, non-voting. Any company/corporation, other than those described above as General Membership, any individual, or other entity shall be eligible for associate membership in the Association. Associate members include Handlers, Brokers and others associated with the industry.
Member's facilities are authorized by their respective states and conform to all local standards for compliance, health and safety, training, monitoring, air emission controls, QA/DC, transportation, storage, packaging, financial responsibility and liability insurance. Association members are the industry leaders in the recovery and recycling of lighting wastes and products that contain mercury or other hazardous constituents.