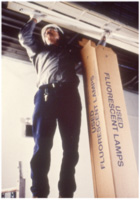 Laws and Regulations
Information on Spent Lighting
A Summary of the Universal Waste Rule and RCRA Subtitle C Hazardaous Waste Regulations fo Businesses.
Who does this rule apply to?
Federal RCRA requirements apply to everyone except households and Conditionally Exempt Small Quantity Generators (CESQGs) – see glossary for definition of "CESQGs."
In some states, households and CESQGs may legally dispose of waste lamps in the trash, although EPA discourages this practice. Many states have policies that are more stringent and require recycling for all lamps.