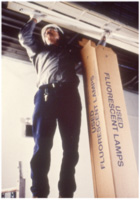 Laws and Regulations
Information on Spent Lighting
A Summary of the Universal Waste Rule and RCRA Subtitle C Hazardaous Waste Regulations fo Businesses.
Where can the waste go?
In most cases, hazardous waste lamps must go to a destination facility ( lamp and mercury recyclers) or TSDF (disposal), rather than to a municipal solid waste landfill. In some states lamps from households or CESQGs are exempt. Recycling waste lamps under the UWR is less burdensome because most businesses will not have to register an ID# with the EPA.